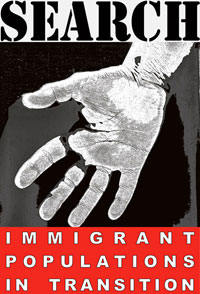 Sites to Examine Art + Regard Culture and Humanity
SEARCH is a project being formed to research the ways diversity influences collaborative artistic experiences and supports social activism. The project will begin by initiating a selection of a charter group of up to 10 women, who will travel for 5 years to areas of the world with developmental needs, or to areas of transition. These women which will include Helen Frederick, Maria Barbosa, Despina Meimaroglou and others discovered throughout the Americas, Africa, the Diaspora and Europe, must be able to commit five years to the SEARCH project and willing to work collaboratively together. The group will achieve a consensus about which countries to travel to for developmental work with woman through the arts. Agencies such as the Alliance of Artist Communities, the American Friends Service Committee, the Washington Area Women's Foundation and others will be contacted for counsel and support. An intergenerational group of women is imagined for this work that will unite regional voices and identity by means of seminars for expansion of ideas, and tools for the creation of visual works, including artist books. As we know visual work needs periods of gestation, birthing, renewal and production and that is why 5 years seems to be the right period of time for this project. The work will be able to take place seasonally when the group agrees to have time for the travel, so it is not a continuous 5 years. Research to select the participants and sites will occupy a significant purpose of the initial stages of the project. Frederick, Barbosa and Meimaroglou are available to lead seminars and workshops designed for collaborative discussion and the creation of collective visual work starting in the summer 2009. These seminars and workshops will be presented through invitation and sponsorship of universities and various cultural and social agencies. By means of digital and video documentation and audio recordings for interviews, the gathering of stories. along with visual works will be organized in archival portfolios for information collection and will create the foundation for the SEARCH project.
For more information and bookings for Summer 2010, please contact Helen Frederick at hfrederi@gmu.edu
SEARCH PROJECT LEADERS

Despina Meimaroglou
Despina Meimaroglou was born in Alexandria, Egypt in 1944 and studied art at Maidstone College of Art, Kent, England (1961-1965). The artist resides mainly in Athens, Greece. Her works span from video, photography, painting, and installation works to artist books.
In the late sixties Meimaroglou moved to Athens Greece and worked in advertising first as a graphic artist and later as an art director for the next ten years. That early occupation has affected the way she handles her subject matter. In the early years of her artistic career her work primarily evolved around printmaking and typography which later on she integrated into other media, first into prints deriving from the colour analysis of Polaroid photographs, before moving on to digital photography and video documentation. She always considers her photographs as images that serve her conceptual ideas. "I was never particularly drawn to the aesthetic aspect of photography. For me, a photograph has to primarily hit its purpose. The reason for which it was taken in the first place and what it intends to represent".
Meimaroglou's art has evolved from social documentation.
"One of my main preoccupations over the years is the mutual relationship between reality and its representation, truth and fiction, social and political (f)acts and their distortion. In effect, my aim is to try to capture and reconstitute my perception of truth from the layers of time and memory as well as from the mediation of social and media induced stereotypes. The process begins by the collection of articles and images from the daily-press and the newsreel which are then manipulated or restructured in a way which either de-constructs the given information and exposes the manner by which it is communicated, or adds more layers to it in an attempt to create more associations and offer new interpretations. My continuous movement around the world in my effort to communicate with various individuals belonging to civilizations dissimilar to mine enables me to discover and therefore comprehend the differences and semblances that bind us with the Other. My goal is to achieve a level of visual and intellectual communication that is incisive, engaging and challenging to the spectator. I find the effort to understand and share the issues that concern the Other extremely important. My intention is never to approve or denounce, but to raise awareness. In my narratives, the focus is on the dichotomy of process versus product. The materialism of our modern world blinds the masses in convenient apathy. Today, under the immense pressure of consumerism and the major transfer of populations due to social/political upheaval it is most important to be able to at least preserve our memory. One of my main preoccupations is the tracing of human destiny. I firmly believe in what Carl Jung describes as synchronicity. And that particular term always ends up being the source of my art".
Over the last 25 years Meimaroglou has been invited to numerous prestigious group exhibitions all over the world, including Paris/France, Milan/Italy, Toronto/Canada, Czech Republic, Alexandria/Egypt and in the US in Boston, Washington DC, New York and Chicago, as well as many significant international exhibitions in Greece. From the mid 80's she has participated in several art workshops as well as artists' residencies, invited by universities, in the USA, London UK and Quito Ecuador. From 1981 to 2006 her work appeared in 24 solo exhibitions in Greece and abroad. Her recent one-woman exhibitions include "The Flowers of Evil", Pyramid Atlantic Art Center, Washington DC, January 2006, "Against the Wall: Women on Death Row", CUNY, John Jay College of Criminal Justice, New York March 2006; "The Clear Valley Incident", Columbia College Chicago, May 2003; "Thy Neighbour", Despina Meimaroglou from the Portalakis Collection, at the Rethymnon Centre for Contemporary Art, Crete, 2002; "East of Eden", 5th Vavel International Festival, Gazi, Athens, Greece; "5DEE(D)S+1OWE" 1999, at the AD Gallery, Athens, Greece; "This is not a movie. It's", 1996, at Mylos, Thessaloniki Greece and various exhibitions at the AD Gallery, Athens, Greece (1991,1994,1997,2000).
Her recent participations in group shows include: "Genius Seculi" Despina Meimaroglou+Deimantas Narkevicius, a two artists' international show, at the State Museum of Contemporary Art, Thessaloniki, Greece, March-April 2008; the International show "Flowers in Contemporary Art", Benaki Museum, Athens Greece, summer of 2006; "The Athens Effect: Photographic Images by Nine Contemporary Greek Artists", Mudima Foundation, Milan, Italy, Sept. 2006; "Masquerades: Femininity, Masculinity and other such certainties", State Museum of Contemporary Art, Thessaloniki, Greece, Dec. 2006; "Legendary" Pyramid Atlantic Gallery, ArtDC, April 2007"; "The Athens Effect: Photographic Images by Nine Contemporary Greek Artists", Maison Internationale de la Photographie, Paris, France, summer of 2007. Her photographic installation "Miami Vibes: Dec.2005" was featured at the "19th International Photography Meeting" organized by the Museum of Photography, Thessaloniki/Greece, April 2007. In 2006 two of Meimaroglou's photos of her China Series 2001 appeared in the prestigious international "Shots Directory", featuring 77 artists chosen from around the world as a result of a worldwide competition.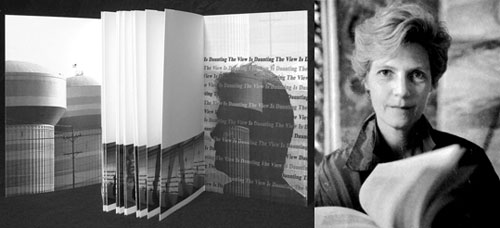 Helen C. Frederick
Helen Frederick is a professor at George Mason University, Art and Visual Technology Department, and Division Coordinator, Printmaking, (B.F.A., 1967 M.F.A., 1969, Rhode Island School of Design). She is internationally known as a print media, book arts and mixed - media installation artist. Since her 1996 teaching appointment at George Mason University, she has developed and established graduate and undergraduate programs in the greater Washington metropolitan region that are also noted nationally.
Frederick is recognized as the founder of Pyramid Atlantic, a Center for Contemporary Collaborative Projects in Printmaking, Hand Papermaking, Digital Media and the Art of the Book. She is a recipient of the Governor's Award for Excellence and Leadership in the Arts in Maryland, Fulbright, NEA, Mid-Atlantic Arts Foundation, and Arts and Humanities of Montgomery County awards for her creative work. Her solo exhibitions include Following the Scent, Fine Arts Gallery, Virginia Commonwealth University, Richmond, VA, 2008; The View Is Daunting, 2002, University of Athens, Georgia; Scieran/Shorn/: Suspension at the Southwest Craft Center, San Antonio, Texas, 2001; Revealing Conditions at the Art Center, South Florida, 2001, and Under Construction: Relay, Rewind, Record at Dieu Donne' Gallery, New York, 1996. Frederick's work is included in the Whitney Museum of Art, New York, National Gallery of Art, Library of Congress and Smithsonian American Art Museum, Washington, DC, and numerous collections throughout the world. She has participated in over 100 exhibitions and in 2007 her work was represented in "Paper", Montpelier Cultural Art Center, MD; "Celebrating 40 Years", Maryland State Arts Council, Baltimore, MD; and "anti-matter", Maryland Art Place, Baltimore, MD. In 2006, her digital portraits were featured in the national exhibition Faces of the Fallen, opening at the Women's War Memorial Museum, WDC. She is the recipient of the 2008 Printmaker's Emeritus Award, the highest distinction in printmaking, from the Southern Graphics Council.
She was a delegate to the International Paper Conference, Japan, sponsored by the Kyoto City Government and the Japan Foundation, New York, 1983; and a major museum project coordinator with Jane Farmer for Crossing Over / Changing Places, a United States Information Service international traveling exhibition of collaborative print and paperworks projects. that traveled to nineteen countries abroad 1993-1997. Throughout her life her passion for diverse cultures and histories has led her to travel to observe the material cultures of many societies, their skills and ideas and to make connections among disparate cultural traditions.
Frederick has moderated many panels including the 2006 College Art Association Panel "Why Beat Pulp, New Paper Terrains in 2007"; "Book Kontakt" The international IMPACT Printmaking Conference, Berlin and, Poznañ, Poland, 2005; The People's Print, Southern Graphic Arts Conference, New Orleans, LA, March, 2002, and served on Art and Human Rights: Destined to Collide? Panel, Columbia College, Chicago Illinois, 2003.
Frederick has served as a graduate critic at such institutions as the Rhode Island School of Design. Memphis College of Art and Design and the University of the Arts, PA. Her activity as a lecturer, juror and curator nationally and internationally, have her currently engaged in the following exhibitions; International Print Exhibition, USA and Japan, 2008 featuring Tamarind Institute, SOLO Impressions, Segura Publishing, Paulson Press and Pyramid Atlantic; Frederick is curating The Conscience of a Nation for George Mason University, October 2008, and From Sketchbook to Suspension, Mitchell Gallery, St. John's College, MD, 2009.
Her work has been featured in Handmade Paper Today, Silvie Turner, Frederic C. Biel, 1983; The Complete Printmaker (revised), John Ross and Clare Romano, Prentice Hall, 1989; Paper, Diane Maurer-Mathison, BDD Illustrated Books, 1993; The Best of Printmaking, An International Collection selected by Lynne Allen and Phyllis McGibbon, Quarry Books, 1997; Dieter Roth in America, Dieter Roth Foundation, Hamburg, Germany, 2004, Interview with Helen Frederick; Papermaking for Printmakers Elspeth Lamb, UK, A&C Black, publishers, Soho Square, London, April, 2005.
Maria Barbosa
Maria Barbosa is an installation artist who was born in Brazil and lives in Frederick, MD. She received a B.S. in Biology (1970) and a Teaching Certificate in Science (1971) from the University of São Paulo, Brazil, a M.S. in Microbiology and Immunology (1974) from the Escola Paulista de Medicina, São Paulo, Brazil, a Ph.D. in Botany from the University of California, Riverside (1978), and a Certificate in Landscape Design (1990) from George Washington University, Washington, DC. From 1981 to 1990, Barbosa worked as a scientist at the National Institutes of Health in Bethesda, MD. In 1987, she was awarded the National Research Service Award. Since 1990, Barbosa has dedicated herself to her art and to teaching.
Barbosa's works explore issues of communication, misunderstandings, and the way signs and language liberate or pigeonhole individuals. Her Installations and artist's books are exhibited nationally and internationally. She was the recipient of the Meredith Springer Award for Artistic Excellence awarded by the Delaplaine Visual Arts Center in Frederick, MD (2005), presented the Role Model Workshop at the National Museum of Women in the Arts (2004), and was a visiting artist for the project Arts, Books and Communities organized by the same museum (2004-2006). Her solo exhibitions include New Orleans, Dry Bones, The Hall Gallery at the Delaplaine Visual Arts Center, Frederick, MD (2008), Letters to the Editor, The Vault Project, Pyramid Atlantic, Silver Spring, MD (2005), Chit Chat, Ch'i: Contemporary Fine Art, Williamsburg, Brooklyn, NY (2003), Open Texts, The Gallery at the Mariam Coffin Canaday Library, Bryn Mawr College, Bryn Mawr, PA (2003), Personal Biology, Lipsett Gallery, National Institutes of Health, Bethesda, MD (2003), The Social Skin, Manifesto from Paradise, Rockville Arts Place, Rockville, MD (2000). Barbosa's work is included in the collections of The National Museum of Woman in the Arts, Washington, DC, The National Institutes of Health, Bethesda, MD, the Research Library at the Getty Research Institute, Los Angeles, CA, the Special collections in the John M. Flaxman Library at the School of the Art Institute of Chicago, Chicago, IL, and the Krock Library Rare Books and Manuscripts at Cornell University Library, Ithaca, NY, among others. Recently, she collaborated with Gretchen Schermerhorn on the installation Fanciful Cravings, exhibited at The Vault Project, Pyramid Atlantic, Silver Spring, MD (2008). Barbosa participated in over 70 exhibitions, and in 2007 her work was represented in Black/White (and Read), exhibited at The Center for the Book Arts, New York, NY, The San Francisco Center for the Book, San Francisco, CA, The Los Cerritos Library, Los Angels, CA, and The University of the West of England, Bristol, UK. That same year, her work was featured in Action/Interaction, at The Columbia College Chicago Center for the Book and Paper Arts, Chicago, IL and Celebrating 40 Years, Maryland State Arts Council, Baltimore, MD. In 2006, Barbosa's work was represented in Pulse, 2006, Hillyer Art Space, Washington, DC, and at Collaboration as a Medium, Maryland Arts Place, Baltimore, MD.
Barbosa was part of the Board of Directors of Pyramid Atlantic, Silver Spring, MD, the Maryland Printmakers, Baltimore, MD, and the Delaplaine Visual Arts Center in Frederick, MD. She participates in Artist-in-Education programs in Maryland and at the John F. Kennedy Center for the Performing Arts, Washington, DC. Barbosa teaches at the Maryland Artist/Teacher Institute, at the Teaching Artists Institute in Baltimore, MD, at the Artist/Teacher Institute International, MD, and at many other summer institutes dedicated to the professional development of teachers. The last two years, Barbosa was an adjunct professor for the Master in Creative Writing program at the University of Baltimore, MD.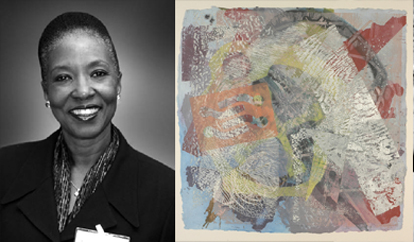 Juanita Boyd Hardy
Juanita Boyd Hardy is a Strategic Change Consultant and a "patron of the arts". She is Principal of Tiger Management Consulting Group, LLC and co-directs Millennium Arts Salon.
Consulting and Business Experience
Juanita has over 34 years of experience in management consulting, software development, training, and systems engineering, including 31 years with IBM, where she retired in 2005. Her expertise is in helping organizations implement sustainable change, which eludes many complex change initiatives. Representative clients include the US Army, the White House, the World Bank, the District of Columbia, the State of New York, IRS, United Services Automobile Association (USAA) Insurance, City of Detroit, and IBM, as part of its own transformation.
Organizational Leadership
Juanita has facilitated many large group meetings in association with AmericaSpeaks, including the 2002 meeting, "Listening to the City", which engaged nearly 5000 NY citizens to discuss redevelopment of lower Manhattan on the heels of the WTC disaster, the 2005 World Economic Forum with engaged global leaders to prioritize the top world issues, the April 2007 New Orleans Employee Meeting to prepare city employees to implement the post-Katrina United New Orleans (redevelopment) Plan (UNOP) and August 2007 California Multi-site Meeting to discuss options for Healthcare Reform.
In addition to serving on the Board for AmericaSpeaks, Juanita is Chair of the Advisory Council for the Women's Council on Energy in the Environment and former IBM sponsor representative to Women Executives in State Government (WESG), where she served as chair of its Sponsor Advisory Council.
Education and Training
Juanita holds a bachelors degree in Mathematics and did graduate work at George Washington University and Harvard Business School through IBM's prestigious "President's Class". In 2006, she completed the University of Maryland AcTivate Program for women entrepreneurs in technology. Juanita holds certifications through IBM's Professional Consultant Certification Program and the Inside-Out Coaching Organization.
Publications and Appearances
Juanita was a professor at IBM's Executive Consulting Institute in Palisades, NY where she taught principals and consultants both in the US and worldwide. Juanita developed the first skills and career guide for the IBM management consulting profession. She has authored and presented many papers on strategic change at client conferences and client leadership development workshops. In Beijing, March 2008, she presented at a business roundtable on the role of leaders and change sponsored by the Peking University Business Review.
Art and Community Involvement
Juanita serves on several non-profit art boards, including the Art Advisory Board for the University of Maryland University College, ArTrain USA (based in Ann Arbor, Michigan), which takes art exhibitions to underserved communities throughout the US via the US Railway, the Brandywine Printmaking Workshop in Philadelphia, where she serves as Vice-Chairperson, and the Asian American Art Center in New York City.
With her husband, Mel Hardy, she co-directs, "Millennium Arts Salon", whose mission is to advance cultural literacy through the arts. For the past 8 years, MAS has developed and delivered art programs, including salon talks, exhibitions, tours, and special events featuring visual and performing artists, collectors, and prominent art professionals to the Washington community, such as artists Sam Gilliam, Ben Jones, and EJ Montgomery, collectors Paul Jones (contributed his collection to the University of Delaware) and Dr. Robert Steele (Executive Director of the David C Driskell Center of the University of Maryland College Park), and curators and scholars Teresia Bush (formerly of Hirshhorn Museum), Halima Taha (author of "Collecting African American Art"), Dr. Richard Long (Author, Professor Emeritus, Emory University, and Founder of the Center for African and African American Studies at Atlanta University), and Dr. David Driskell, collector, professor, and artist and leading authority on African American Art. Through outreach efforts, MAS has realized successful collaboration with major art institutions including Pyramid Atlantic, David C. Driskell Center at the University of Maryland, Brandywine Printmaking Workshop, and The Phillips Collection.
Juanita was a docent for the American Craft Museum (renamed Museum of Arts and Design) in New York City from 1993-1996 and served as a docent for the Corcoran Gallery of the Art in Washington, DC from 1999-2001. She is a member of the Collectors Club of Washington, DC, which in partnership with UMUC Arts Program, the David C. Driskell Center, and the Pepco Edison Gallery, exhibited Holding Our Own: Selections from the Collectors Club of Washington, DC, Inc. An avid art collector since 1985, Juanita has acquired, with her husband of almost 10 years, over 200 works of art on paper, canvas, and sculpture by primarily African American artists, and also artists from the African Diaspora (Caribbean, Brazil, and Africa), as well as China, Japan, Australia, and Europe.
Juanita with her husband was recently recognized for their art advocacy role by the United Arts Alliance at its 2008 Best of Fine Arts award program.